&nbsp


&nbsp


---
Interested in hosting an
Introduction to Voiceovers
class at your company or organization?
---
VFA Proudly Uses:

Microphones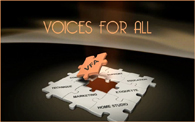 3.12.14 - Pro Tools Installation Guide


Step-by-Step Installation Guide for Installing Pro Tools 10 Now Available!

Avid recently published instructions on how to activate Pro Tools. They have also provided videos for each step in the installation process, including how to activate the Pro Tools license on the iLok device.

Voices For All strongly recommends that students preparing to install Pro Tools review this tutorial prior to contacting us for technical support. We have made this link permanently available on the Resources page but you can also review the installation procedure here: http://avid.force.com/pkb/articles/en_US/How_To/ActivationCard





Eric, I got my first job! It's volunteer, but it's national. It's the radio commercial for the YMCA Twin Cities that they will be sharing with their affiliates nationwide. You helped me revise my cover letter last week. I thought I wasn't selected because I didn't hear back from them on Monday, but this morning I sent my VFA web page with bio and demos AND NOW I'M IN, MAN!!!!

It's a start. Baby steps every day.

Thank you and all at VFA.

Patrick L. - MN




Is your voice your instrument of choice? Have you been considering using your voice professionally? Do you hear yourself giving your voice to audio books, commercials, narrating a documentary or using your knack for accents and voices to do a cartoon? Stop imagining because you might be able really do it.

Over the last decade Voices For All, has helped thousands of people take their voices to the next level. VFA is not just some recording studio trying to make extra profit form recording Voice Over Demos. VFA is strictly a VO education company. That is what we do, that is our specialty, that is our passion, that is why we are here. What makes us unique is the wide range of courses we provide, for beginners to experienced talent. We pioneered the use of video chat technology in our One-On-One Introduction to Voiceovers class to acquaint interested students with the voiceover industry.




The Voices For All FAQ is meant to be one of your first stops in gathering information about getting into the world of voiceovers and voice acting. We have compiled a list of the most commonly asked professional voiceover training questions by new aspiring voice over talent and provided simple yet comprehensive answers. Reading through these will help you to understand what it really takes with regard to technique, marketing, home studio, demo production and more, in order to get into the voice-over industry. If you are unable to find the answer to your question here, please visit our Ask The Pros section.




Didn't find the answer to your question above in our FAQ section? No problem! Here is where you can ask our knowledgeable staff of industry experts any question related to voice-overs, voice over classes and pursuing your voice acting career that you would like. A member of our administrative department will review your question and obtain an answer from one of our voice acting education professionals. Please visit this section to send us your question and expect an answer within 24-48 hours.